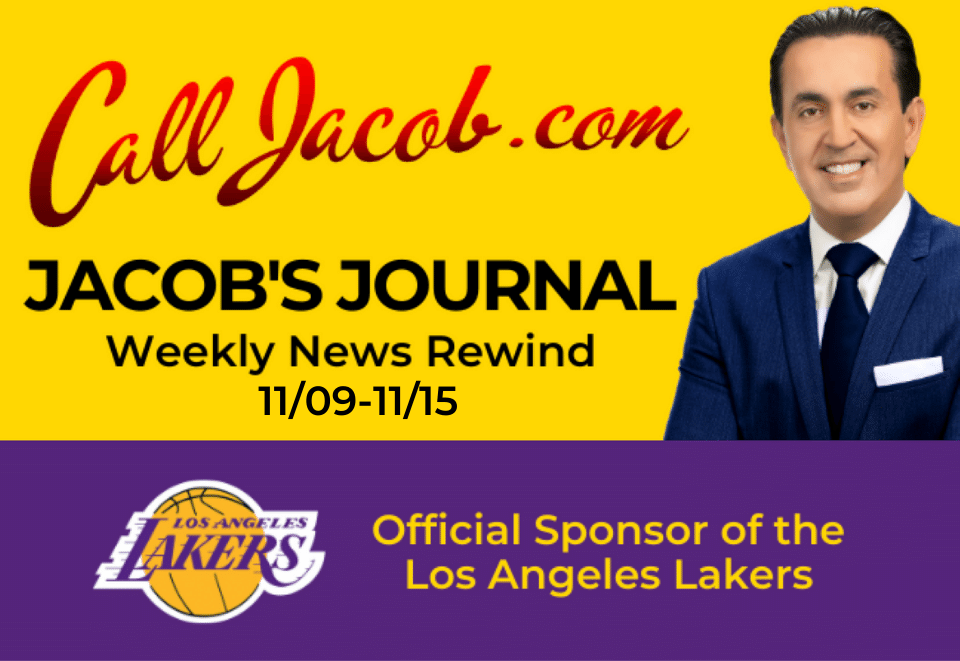 Jacob's Journal – Weekly News Rewind (11/09-11/15)
California Issues Travel Advisory Urging 14-day Quarantine After Passing 1 Million COVID-19 Cases
Friday, November 13 (KTLA 5) – As COVID-19 cases surge to over 1 million in the state of California, the state issues added advisories and bans to keep its citizens safe. On Friday a new travel advisory was put in place urging residents that are traveling during the holidays to undergo a self-imposed two-week quarantine. 
It is suggested that you Californians not travel at all, but if they are going to, limit interactions with people outside of their households and abide by the quarantine for 14 days after arriving in California. This applies to those crossing borders for non-essential travel. The Governors of Oregon and Washington joined California's efforts and issued their own travel advisories as well. 
"It isn't a ban, it isn't a restriction. This is an advisory," California Health and Human Services Secretary Dr. Mark Ghaly said. "We chose to go with an advisory because for many, many months we've recognized that this partnership with all Californians to choose to do things that we know reduce spread is an important one." 
Pilot Killed in Fiery Crash Near Pacoima Home While Approaching Whiteman Airport
Thursday, November 12 (KTLA 5) – Late Thursday morning a small plane crashed outside of a Pacoima home just short of the Whiteman Airport, fatally injuring the pilot whose name has yet to be disclosed. According to the Los Angeles Fire Department, the crash occurred right before noon in the 10600 block of North Sutter Avenue. The plane burst into flames upon impact which resulted in multiple automobiles in the area also catching on fire. 
According to LAFD Capt. Erik Scott, "Firefighters saved that home, so it did not actually get any fire inside that home," Scott said. Air traffic control made contact with the pilot prior to the crash and was recorded saying that the plane had lost engine power and he would try to make it stretch to the runway. The FAA and National Transportation Safety Board will investigate and determine the cause of the crash.
One Person Killed, Several Hurt in Violent Whittier Wreck
Thursday, November 12 (KCAL 9) – It's unclear if drugs or alcohol played a role in a car accident in Whittier on Wednesday night. An Audi sedan with six passengers slammed into a light pole, killing one and injuring others. The vehicle was traveling north on Carmenita Road and a Toyota was traveling south on Carmenita when the Audi attempted to make a left turn and crashed into the light pole. Law enforcement speed may have been a factor in the accident.
Driver Who Led Authorities on Pursuit from Joshua Tree to L.A. County Tackled by Officer in Wilmington
Wednesday, November 11 (KTLA 5) – A bizarre pursuit led officers from Joshua Tree to Los Angeles County before they were able to catch up to the assailant and take him into custody on Wednesday morning. Officers were conducting a routine traffic stop off the 62 Freeway in Joshua Tree when the driver took off. The driver made his way to the Wilmington area and began heading southbound on the 110 Freeway toward San Pedro. 
The driver continued north on the 405 Freeway, entering Carson and Torrance, before exiting the highway at Hawthorne Boulevard. The pursuit suspect immediately got back on the freeway heading south, aerial video showed. While boxed in by officers, the driver tried to take off in the SUV, but eventually stopped and took off on foot. Eventually, the suspect was tackled by an officer and taken into custody. No further details about the suspect or vehicle have been released. 
Man Rescues Toddler From Deadly Crash on 101 Freeway in East Hollywood
Tuesday, November 10 (KTLA 5) – A deadly crash took place shortly before 9:30 PM on the northbound 101 Freeway, slightly south of Santa Monica Blvd. The cause of the crash, which did not appear to involve any other vehicles, is still under investigation. The driver was identified as a 23-year-old female, Arin Pugh. She was found unresponsive and later pronounced dead shortly after. Her 2-year-old son was also in the car but survived. Officers believe Pugh lost control of her vehicle and drove onto an off-ramp embankment before crashing through a fence and landing back on the freeway. Anyone with information is asked to contact the CHP at 213-744-2331.
Street Racing Investigated as Possible Cause of Fatal Crash in Exposition Park
Thursday, November 12 (KTLA 5) – One driver is pronounced dead at the scene and a driver of a second vehicle was taken to the hospital with severe injuries following a fatal crash in Exposition Park Thursday morning. It is unclear whether speed played a factor but investigators have a hunch that the two vehicles were racing each other before the crash occurred. Both occupants were described as men between the ages of 20 and 30 years old. The identities of the men have not been released. Officers are canvassing the neighborhood searching for any surveillance video of the crash. Anyone with information can call the Police Department at 877-527-3247.
Woman Killed in Baldwin Park Hit-and-Run Crash; Driver Sought
Thursday, November 12 (KTLA 5) – A fatal hit-and-run accident involving a female pedestrian occurred Thursday morning in Baldwin Park. The crash was reported about 1:45 a.m. in the 1800 block of Puente Avenue. The unidentified woman was pronounced dead at the scene after suffering severe injuries. After speaking to neighbors that live around the scene of the crime it is thought that the victim was possibly homeless. Police are now searching for the hit and run suspect. No description of the vehicle or driver sought in the crash were immediately available. Anyone with information is asked to call the Police Department at 626-960-1955.
At Least 1 Killed In Big Rig, Motorcycle Crash On 5 Freeway In Commerce
Tuesday, November 10 (KCAL 9) – Several lanes of the 5 Freeway were closed after a big rig and a motorcycle were involved in a fatal crash. At least three lanes were left shut down as investigators tried to find the cause of the accident. The crash was first reported as the rider of the motorcycle being trapped under a big rig shortly before 6 AM in the northbound lanes at Garfield Avenue. The deceased victim's name, gender, and age have yet to be disclosed.